Ross Taylor of Rock M Nation has a primer of what storylines you need to know before Missouri and Texas A&M square off on Saturday. SB Nation Kansas City would like to remind you that it does not assume any liability for property damage resulting from the frustration of listening to color analyst Dave Lapham.
Narrative TV Announcers Will Make You Sick of Hearing: Strength of Schedule
Missouri is one of 13 remaining undefeated teams in FBS, though the nation's lukewarm response to the Tigers' 5-0 record is somewhat expected. After all, who have the Tigers played? Well, according to statistician Jeff Sagarin, whose strength of schedule-based rankings have the Tigers sitting at No. 16, Missouri has faced three teams (Illinois, San Diego State and Colorado) who appear in his top 55.
It is a murderer's row by no one's judgment, and it's why Missouri's game against Texas A&M on Sunday is so important to the Tigers' national perception. Mizzou fans are awaiting on pins and needles for ESPN/ABC to inform them whether or not their homecoming game against Oklahoma next week will be televised at either 2:30 or 7 p.m., as well as whether or not College Gameday might make its first trip to Columbia. All of the anxiety about the broadcasts mean nothing if Missouri doesn't come out of College Station unscathed. Missouri's legitimacy won't be rock solid overnight with a win (after all, it would be a third-straight loss for an Aggie team that might be considered in free fall), but if the Tigers are serious about holding onto the number before their name, they can't afford to fall flat in their first real test.
Narrative You Really Should Be Hearing More About: Offenses Going Dead In The Red
Missouri fans are quite thrilled to see Missouri's scoring defense atop the Big 12 rankings, allowing only 11.2 points per game, a ranking good for third in the country. The Tigers have been stingy with points despite a total defense ranking of 30th in the country (318.6 yards per game). The yards might be a little disconcerting and/or a sign that Missouri's defensive point totals are due for a serious statistical correction soon. For years, Missouri has wanted to bend but not break on defense, and through five games, the unit has refused to break.
Much of the stinginess can be attributed to Missouri's strength in the red zone, a category in which the Tigers also rank third in the country. Mizzou's opponents have come away with points on only 53.9 percent of their trips inside the Tiger 20, and have actually gotten into the endzone on only 30.8 percent of trips.
Bonus Narrative: Jim Knox!
Because what other sideline reporter has been thrown off a couch, raced with pigs, or been hit with a moving screen while running with Ralphie? Extra special bonus points will be awarded if he reprises his role as the incompetent and farcical antihero to Skateboard Dog: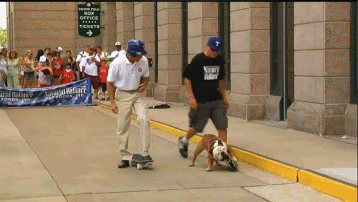 For Your Mizzou-Themed iPod Playlist: "Long Way Home" by The Offspring 
"The past is gone the future's blind,
Don't care how long it takes this time,
On and on, I'll take the long way home."
336.
That's the number of days since Missouri has played a true road game. The Tigers last played an actual road game on Nov. 14 (beating Kansas State in Manhattan), and since then, have played three neutral site games (Kansas, Navy in the Texas Bowl, and Illinois) and five home games (Iowa State in 2009 plus four games this season). The game against Texas A&M is also the first time the Tigers will have left the state of Missouri for a game this season. It'll be a long way home for Mizzou, but in talking to the players on Monday, the team (including Blaine Gabbert and T.J. Moe, in particular) seems to genuinely enjoy playing on the road. Missouri went 4-1 on the road a season ago and hasn't lost multiple road games in a season since 2006. In the years since, Missouri is 9-3 on the road, with all three losses to ranked teams.
For Your Texas A&M-Themed iPod Playlist: "Careless" by Micky and the Motorcars
"I was reckless leading you to believe,
you were careless when you fell for me."

"Careless" is probably the most apt description for Jerrod Johnson's ball security in 2010. So who was more careless: Johnson with the ball in the first five games of 2010 or the Big 12 media in "falling for him" and anointing him as the next big thing in the offseason?
Johnson's taste for turnovers is the most compelling reason for optimism for Tiger fans. Mizzou ranks No. 10 in the country in turnover margin (+1.0 per game), while the Aggies rank No. 115 with a -1.2 per game average. A&M's 18 turnovers are far and away last in the Big 12. The Tigers have won 28 straight when finishing the game with a positive turnover margin and will look for No. 29 on Saturday.
For more Missouri coverage, make sure to bookmark Rock M Nation.